Right to Remain published its first Toolkit 10 years ago. This was when we were known as National Coalition of Anti-Deportation Campaigns, and the Toolkit was called Campaigning Toolkit.
Since then, our Toolkit has become the go-to resource for people who are going through the asylum and immigration system and for the communities who are fighting for migration justice in solidarity with refugees and migrants. Last year alone, over a quarter of million users accessed our Toolkit online.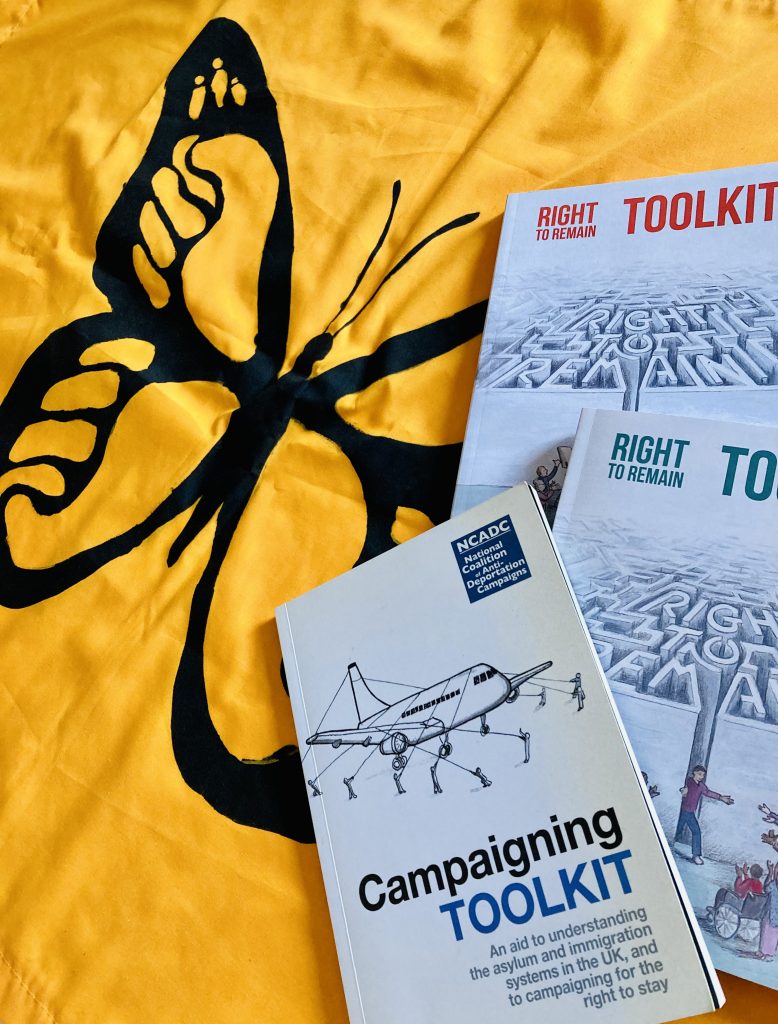 At the same time, the availability of Legal Aid immigration and asylum legal advice and representation has been dwindling over the years. This is no longer an incoming crisis – it is a permanent emergency.
But more and more people are coming together to stand with refugees and migrants. And this year, we are celebrating the Toolkit's history, its achievement and our community who has helped Right to Remain to create our Toolkit in the first place. We are determined to make more connections of solidarity across the UK, to galvanise the migration justice movement.
Today, our Toolkit is needed more than ever. Join our celebration, spread the word and help us safeguard its future.
How has the Toolkit helped people?
The Toolkit has supported migrant communities and people working with them for over a decade. We can tell you about the impact ourselves, but it might be better to hear from someone who has used it themselves. Read Glory's interview, a These Walls Must Fall campaigner, on how the Toolkit has guided her through the system. You can also read about how the Toolkit has supported organisations by reading our interview with Joshua, who's work was supported by the Toolkit.
Come to our Toolkit Festivals!
Between March and June 2023, we will be taking our Toolkit to different destinations across the UK, to ensure communities and community groups who need the Toolkit actually get it and to make connections with people on the ground. If you want to be our festival co-partner, please get in touch. We will be announcing our dates and locations shortly – so watch this space!
What will be happening at the Festivals?
The Toolkit Festivals are a celebration of 10 years of our groundbreaking resource. In our workshops, we lead a range of empowering exercises, such as deep-diving into the stages of the asylum process, and explaining the difference between legal advice and legal support. We debunk fear-mongering news stories, offer panel discussions highlighting migrant perspectives and of course, explain and share how to use our Toolkit! Our Festivals bring together communities, organisations, and groups within a geographical region to meet within a space safe, network, and bounce ideas off each other: all to build radical solidarity in the sector.
Want to know how our Toolkit Festivals went? Scroll down to the bottom of the page to see our blogs on Belfast, Bradford and London!
Support the Toolkit!
For the Toolkit's 10th anniversary, Right to Remain is aiming to raise £50,000 which will safeguard the Toolkit's immediate future. There are many ways in which you can help.
Run with us at Hackney Half on 21 May 2023! Get in touch if you want to be one of our 10 runners to raise money for Right to Remain!
Walk with us at the London Legal Walk on 13 June 2023 to raise money for Right to Remain! Get in touch if you want to join our team!
Become a regular supporter of Right to Remain! We would appreciate it if you could join our group of committed supporters who donate to us every month. Their support has sustained our work over the years.e part of our future. Please get in touch if you are interested!
Feel free to get in touch if you want to organise your own fundraising activities! Hosting a gig? Doing a bake sale? Let us know!
Merch
As part of our 10th anniversary celebrations, we have just reopened our online shop! You'll find our legendary No One is Illegal t-shirts, as well as new tote bags, and These Walls Must Fall t-shirts.
All proceeds from our merchandise will go towards Right to Remain's future work in building radical solidarity and support to migrant communities.
Look out for the addition of stickers coming soon!
Join our celebration!
We will be hosting a celebration event in London on 16th May 2023, inviting our friends, supporters and allies.
Other resources:
As per the title of our Toolkit Festivals, we are celebrating 10 years of the Toolkit. However, we also would like to take this opportunity to highlight some of our other resources for learning about the system.
Our Young Asylum Guide is designed to help young people seeking asylum navigate the system. Tailored to young people, the guide is filled with bright colours and illustrations by young people seeking asylum.
Our Asylum Navigation Board is an interactive way of learning about the asylum system. Participants can learn about what people going through the system and those supporting them can do to be in a better position. We recommend you use the navigation board with someone you trust.
We will be adding more events and information in the coming weeks and months. If you want to stay informed, please sign up to our newsletter here. Please feel free to get in touch with Sundus Abdi, Communications and Campaigns Assistant, at sundus(at)righttoremain.org.uk if you need any further information.