One of the key aims of our 10th anniversary Toolkit festival tour is to spread awareness of the Toolkit with organisations who provide vital frontline support. So when we travelled to Worcester on 27th July, we were excited to find an audience who had little prior knowledge of Right to Remain, or the ways in which the Toolkit can be used to support those seeking asylum.
Thanks to our powerhouse festival partner, Ros Gowers of Evesham Vale Welcomes Refugees, we gathered six entirely voluntary groups from across Malvern, Hereford, Wyre Forest, Bromsgrove and Redditch, for a day of workshops in Worcester city centre. These small grassroots organisations originally set themselves up to support three Syrian families who had arrived in Worcester through the resettlement scheme, but since expanded to encompass support for arrivals from Afghanistan, Ukraine and asylum seekers in hotels and dispersal accommodation.
Ros attended our Knowledge is Power workshop back in March, and asked us if we'd consider coming to Worcestershire to do a workshop. She explained that groups in more remote parts of the country feel that there is little support available, as organisations tend to be concentrated in cities or in the capital. As there are no legal aid lawyers working in this region – the closest being upwards of 30 miles away in Birmingham – we knew it would be a necessary and valuable location for Right to Remain to travel to.
The day was brilliant, enriched with the attendees' dedication and willingness to learn. Over three quarters of those in attendance had not heard of the Toolkit, so we were able to widen our audience and promote its use in a region that needs it.
The most extraordinary element was the fact that all forty people in attendance were volunteers, dedicating so much of their time to support people. Some had come out of retirement, some worked alongside this role supporting asylum seekers, but all were united in their passion to help those in need.
Ros encapsulated this feeling when we asked what gives her hope for the future: "those that we work with. Many people don't factor in the motivation, resistance and strength it takes to get here in the first place. These people are outstanding and deserve it all".
A lot has progressed in the past year. Previously the voluntary groups in this region were working separately from one another, but now they have come together under the umbrella of Worcester Welcomes, which Ros vice-chairs. Now there is increased help, more open doors, better relationships, more "joined up thinking", as Ros puts it. Thanks to this work, some groups are now funded, and are able to run a 'hub-come-shop' space in Evesham Vale.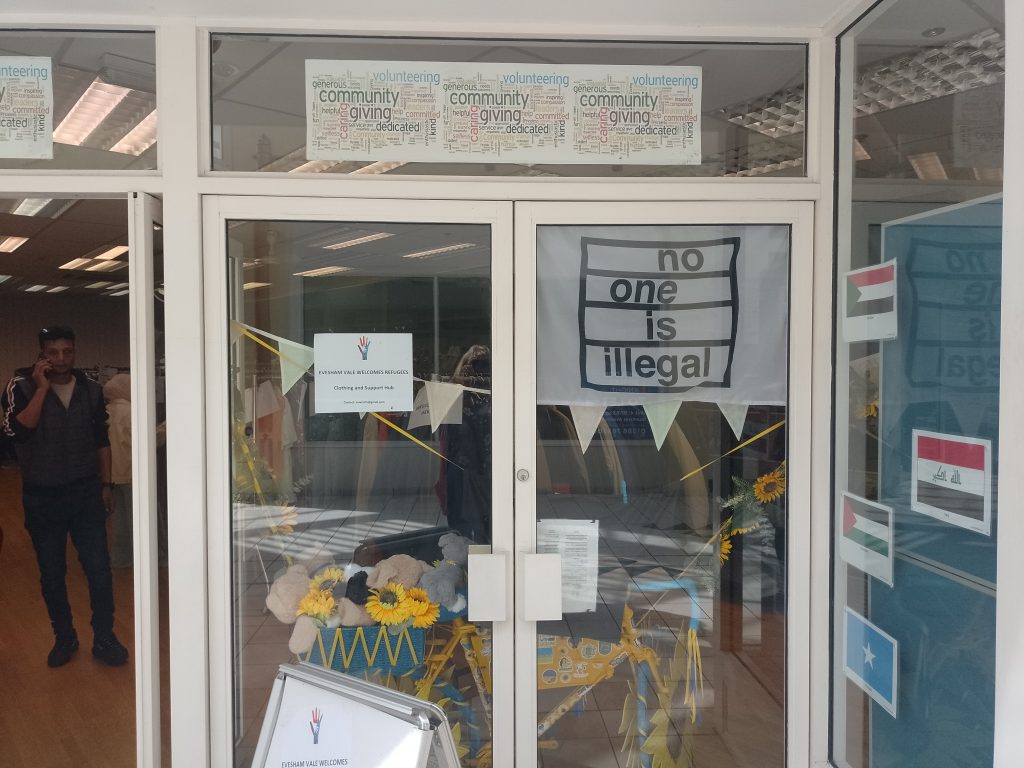 ---
SUPPORT OUR WORK
On reaching the UK, people face a hostile environment. Without help, many will be forcibly sent back to the wars, persecution and misery they have fled.
Your donation will help us to help people in their struggle for the right to remain in the UK, and to campaign for migration justice
DONATE TO RIGHT TO REMAIN