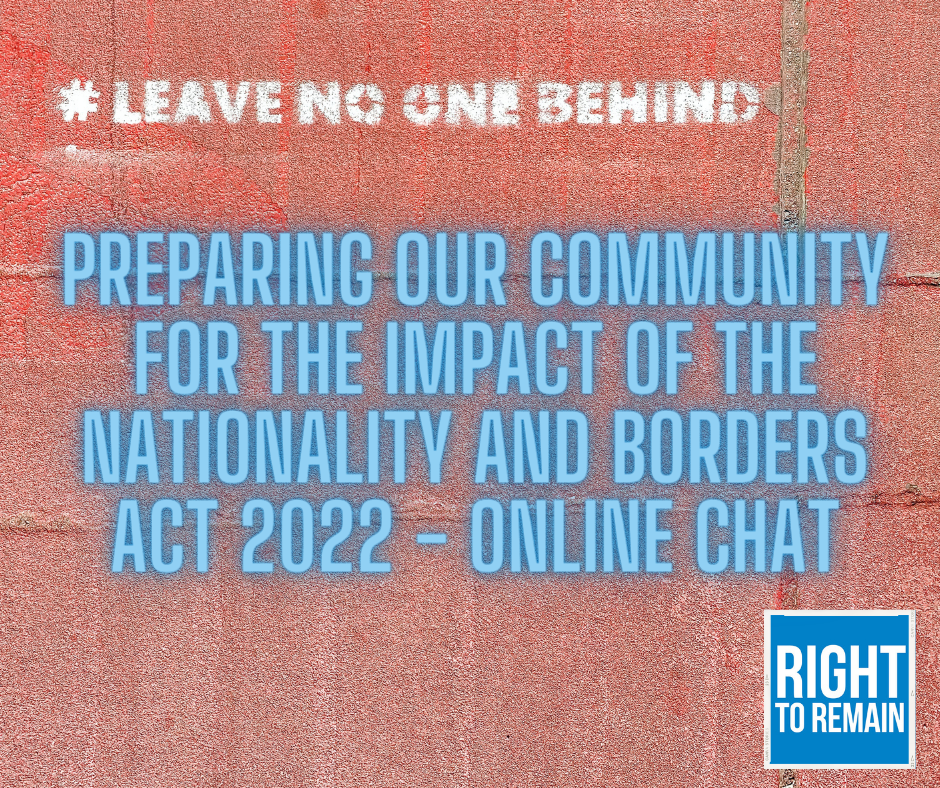 Many users of the Right to Remain Toolkit: The Guide to the UK Asylum and Immigration System have recently contacted us, asking about the potential impact of the Nationality and Borders Act 2022 on our community.
This new law has inevitably created much fear and uncertainty. But this is also countered by a strong determination to work together to protect ourselves and our community, and to see more people secure their right to remain in Britain.
At Right to Remain, we are taking a big deep breath to start reviewing and updating our Toolkit, to incorporate the changes that will happen as a result of the Nationality and Borders Act. You can read our initial, brief, description of the key changes here and we will be writing more about them over the coming months as their details become clearer.
And we need to be thinking ahead at the community level.
Are you grassroots groups working in solidarity with migrants, refugees & people seeking asylum, providing support to help people navigate the asylum and immigration system? You maybe also be self-organised groups of people who are going through the system right now. Would you like to participate in an informal on-line meeting to share with each other how we are preparing our community to face the impact of the Nationality and Borders Act?
We know that our community of migrants, refugees, people seeking asylum need reliable information and radical solidarity to be able to continue to fight for their case, fight for their right to remain here and survive. If your group wants to have a chat to share concerns, needs, thinking, ideas, intelligence etc, do join our informal chats. We don't know exactly what our future looks like but we know we need each other more than ever so that we can shape our future together.
We will host two 1-hour meetings:
Meeting 1 – On Tuesday 26 July, from 10am to 11am
And
Meeting 2 – On Wednesday 27 July from 5pm to 6pm
Please note that these Meeting 1 and Meeting 2 are the same, and you need to attend just one of them. So please only book yourself at one of the meetings. You can book your place by following the instructions at the end of this blog.
If you are interested in joining our coversation but cannot attend either of the meetings, please get in touch with Eiri at eiri (at) righttoremain.org.uk
Register for Meeting 1
Register for Meeting 2
---
SUPPORT OUR WORK
On reaching the UK, people face a hostile environment. Without help, many will be forcibly sent back to the wars, persecution and misery they have fled.
Your donation will help us to help people in their struggle for the right to remain in the UK, and to campaign for migration justice
DONATE TO RIGHT TO REMAIN