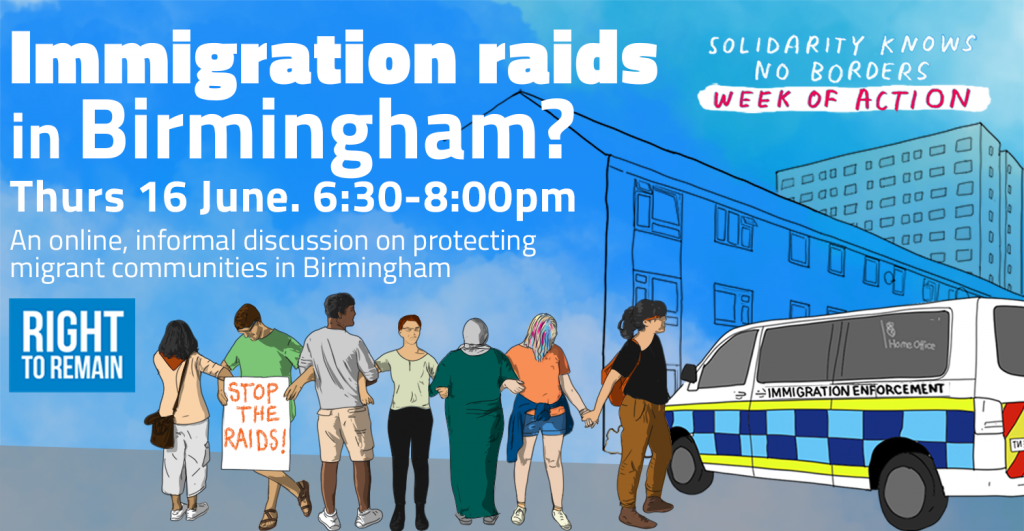 On Thursday 16 June '22, we are hosting an informal online meeting for people in Birmingham who are concerned about immigration enforcement and are curious about anti-raids network.
What's after "Kenmure Street"?
The scene of crowds of people stopping immigration raids in Kenmure Street in Glasgow has inspired many communities to continue to build solidarity with migrants, refugees and people seeking asylum. At the same time, the government's plan to deport some people seeking asylum here in the UK all the way to Rwanda is a sign that state racism of immigration control is stronger than ever.
What can be done to protect migrant communities in Birmingham against the Hostile Environment? Do we know enough about immigration enforcement taking place in our city? Should there be an anti-raids network in Birmingham, as in other cities across the UK?
This is an informal Zoom chat to start these conversations in Birmingham, as part of Solidarity Knows No Borders Network #10YearsTooLong: Week of Action to End the Hostile Environment! 13-19 June 2022
At this event, Right to Remain will be supporting a small group of migration activisits who want to start this conversation. We will announce speakers, once they are confirmed.
You can book your place here.
---
SUPPORT OUR WORK
On reaching the UK, people face a hostile environment. Without help, many will be forcibly sent back to the wars, persecution and misery they have fled.
Your donation will help us to help people in their struggle for the right to remain in the UK, and to campaign for migration justice
DONATE TO RIGHT TO REMAIN