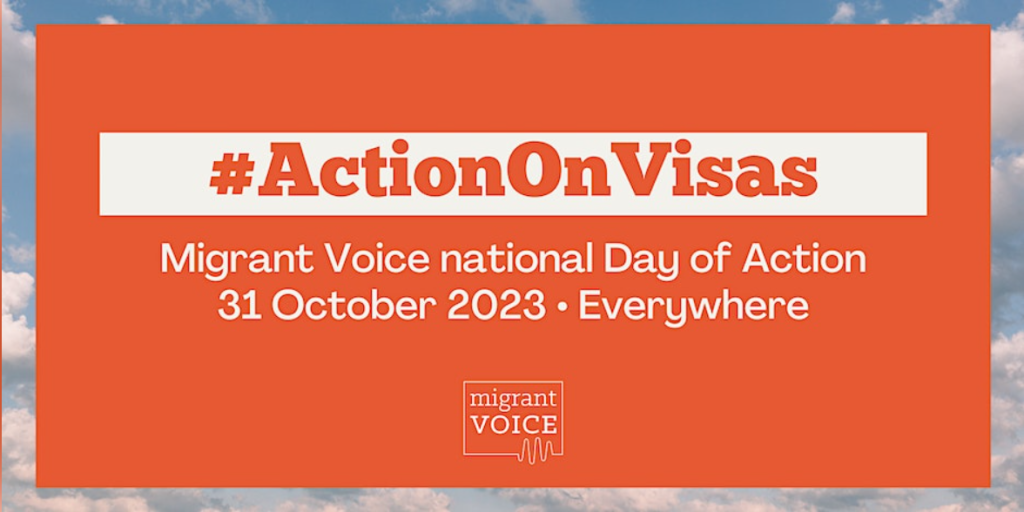 On 31 October 2023, Migrant Voice is holding a National Day of Action to raise awareness of the massive increases to visa fees and settlement applications. This short blog outlines why this action is so important and how you can take part.
In July 2023, the UK government announced its intention to increase visa fees, and the immigration health surcharge.
Since we published our blog, we have had huge engagement on the issue, with many people in our community sharing their opposition to these proposed changes.
These changes will affect a wide range of visas, including those for students, workers, and family members.
What is happening with the visa fee increases now?
In order to increase application fees, the government laid regulations to increase fees on 15 September 2023. There will not necessarily be a vote or debate on this in Parliament (because it is done under the negative procedure).
Normally, there is at least 21 days notice before regulations under the negative procedure come into effect, but these regulations were laid on the 15 September and come into force on the 4 October – which is 19 days notice.
The Immigration and Nationality (Fees) Order 2016, which sets the upper limit on fee rates under regulations, has been amended.
From 4 October at 9am, work and visit visas are going up by 15%, family visas, settlement and citizenship by 20%, and student visas by 35%. For a full list of how much each visa will be increasing by, see this blog by Free Movement.
The Immigration Health Surcharge will also be increased, and is set to be increased by 66%. This will mean an increase of £624 to £1,035 per year. In order to do so, the Immigration (Health Charge) Order 2015 will have to be amended. This will require a positive vote in both Houses of Parliament, so will take slightly longer to come into force and has not yet happened.
What will be the effect of these visa fee increases?
Visa fees are already extortionate, and far above other European countries. Increasing visa fees in this way will have a massive impact on many people. These high fees affect every aspect of people's lives, and affect people's mental and physical health.
To take just one example, those on the arduously long 10 year route to settlement will go from paying £2,600 every 2.5 years to over £3,800 per person every 2.5 years over a 10 year period. That's a total of £15,8200 per person for settlement in the UK.
There is no doubt that these latest increases will place many people at risk of losing their immigration status and becoming undocumented.
What can you do about it?
Take part in the National Day of Action against these visa fee increases!
This day is a platform for individuals and organisations across the UK to join together in solidarity to oppose the government's punitive policy changes.

Migrant Voice has organized a series of online planning meetings and training sessions to help participants prepare for the National Day of Action on 31 October. Here are some key dates and activities to add to your diaries:
Media Training Session (September 27th, 4:30 – 6pm): Learn how to engage with journalists, articulate key talking points, and effectively communicate your message to the media.
Follow-up Day of Action Planning Meeting (October 3rd, 4:30 – 6pm): This meeting will allow for progress updates and coordination among participants.
Advocacy Training Session (October 10th, 4:30 – 6pm): Discover how to pitch the message to MPs, local authorities, and the wider public, enabling you to advocate effectively for change.
National Day of Action (October 31st, all day): This is the main event, where participants across the country will engage in activities and events to raise awareness about excessive migrant fees.
To get involved and participate in these planning meetings, visit Migrant Voice's website and register for the events.
Whether you're an individual, or a community organisation, your voice and actions matter. Together, we can challenge unfair policies and stand in solidarity with all migrants. Mark your calendar, register for the planning meetings, and join Migrant Voice on 31 October to make a powerful statement for change.
When sharing your plans for the Day of Action, you can use the following hashtags:
---
SUPPORT OUR WORK
On reaching the UK, people face a hostile environment. Without help, many will be forcibly sent back to the wars, persecution and misery they have fled.
Your donation will help us to help people in their struggle for the right to remain in the UK, and to campaign for migration justice
DONATE TO RIGHT TO REMAIN