At Right to Remain, we are always eager to seek out grassroots groups who are active in the migration justice field, and amplify their whys and hows. This series – In Search of radical solidarity- aims to raise the profile of these groups, so we can learn the true meaning of radical solidarity from each other.
We have been working hard to connect with small grassroots groups, especially those who use our resources, attend our workshops and share their campaigns with us. These grassroots groups are an embodiment of radical solidarity – they provide all of us us with hope and energy. In this series, we are raising the profile of such groups, to learn from each other. For this blog, we spoke to Plymouth Hope:
Plymouth Hope is a volunteer-led charitable organisation that uses sports and physical wellbeing activities to foster social cohesion for people seeking asylum, refugees and other minority groups. They host a weekly Social Saturday, where people can enjoy some activites and a hot meal, as well as a cycling club and homework support group for young children. We were particularly interested in their Future Youth programme, which supports young people with four key areas for successful development: education and learning, guidance and transferable skills, wellbeing and cultural awareness.
We caught up with Nada Alahmed, Integration Empowerment Officer at Plymouth Hope, to learn a bit more about the organisation.
Nada tells us how holistic activities are important for people seeking asylum, "Being an asylum seeker means you have no relatives with you in most of the cases, so having activities to attend will help reduce the isolation and loneliness, help build friendships, increase confidence and help them improve their English language by using it with others."
Social Saturday is one of Nada's favourite activities: "It brings everyone to one space – some of our other activities are for men, women, or children only, while Social Saturday is for everyone to come together and enjoy. We share hot meals, cooked by some of our members, and they feel at home by cooking something that represents their home country. This helps them learn more about each other and build relationships."
With the hostile environment, ever-changing laws and the recently passed Illegal Migration Act 2023, it can be difficult for our communities to stay hopeful. Nada points out, "Refugees can be more hopeful than people seeking asylum as they feel they have started a new chapter of their life after getting their papers. From my point of view, I think asylum seekers are struggling because they are waiting for a decision to be made by the Home Office. However, the people seeking asylum that we work with attend our activities and volunteer with us to build their confidence and help the community."
It is also vital for people working with people seeking asylum, migrants and refugees to keep hopeful and optimistic about the future. Nada shares "Seeing the youth and how they are trying their best to cope and adapt with their new place, new culture and new community always motivates me and gives me hope that the future will be great.These situations that young people have been exposed to, whether that is their journey to the UK or waiting for an asylum decision, can build a strong and confident person."
To join, support or get in contact with Plymouth Hope, email info@plymouthhope.org.uk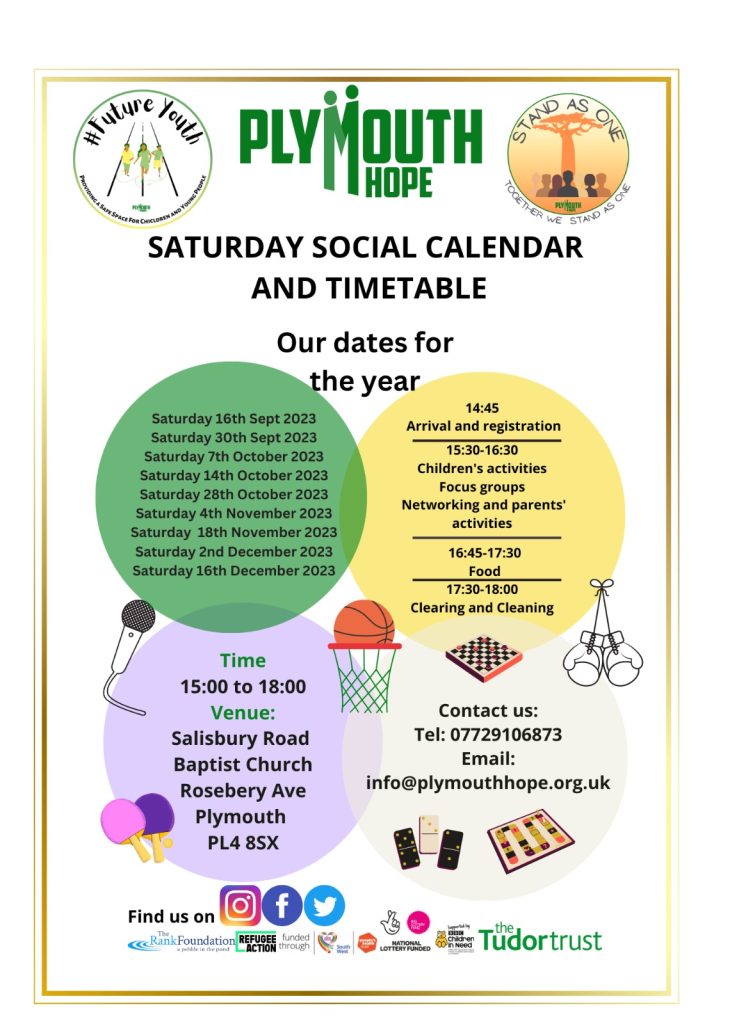 ---